Put your hand up if you like getting lost or kidnapped? Well yeah, I guess it makes for a good story. What about being filthy? I suppose some of my dirtbag friends don't really mind that.
Let's try another tack.
Put your hand up if you like wasting time rummaging through your backpack? Cleaning up sunscreen explosions? Carrying excess weight? Rats eating your food? I can see the hands dropping now. Who likes getting infected wounds? You'd need to be pretty messed up to like that.
OK, I don't see any hands up. What's my point?
I can now say with confidence that y'all are going to get something from this post, where I'll explain the handful of very useful but uncommon items that I always bring travelling.
They are, in no particular order:
1) Tiny Compass
In familiar places we all form mental maps with landmarks for orientation. In foreign places, this doesn't work. I have a pretty good mental compass, 1 and I also know that the sun rises in the east and sets in the west. But this knowledge isn't very useful at midday, or at night.
This compass-carrying habit began in Central America for verifying that my taxi driver wasn't kidnapping me. (Or at least, he was kidnapping me in the direction of my hotel). It's also come in handy in China when a metered taxi tried to joyride in the wrong direction to run up the cost.  And more times than I can count, it's been useful after my mental map was spun in circles exiting underground metro stations.
As an added bonus, you'll be prepared for any impromptu orienteering sessions.
2) Stuff sacks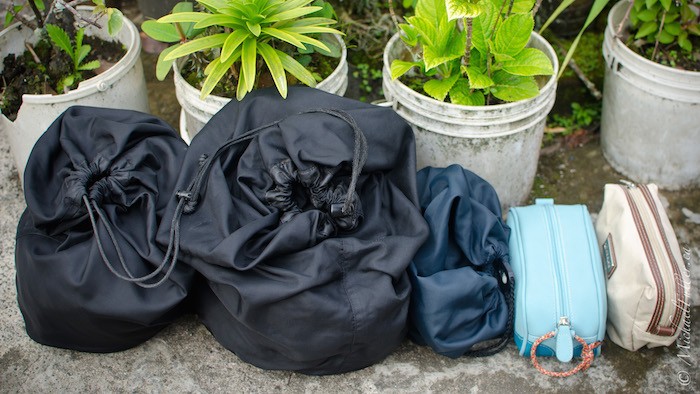 My bag is packed and unpacked daily using a system I call "block method". Essentially everything is subdivided into about 10 different blocks of various shapes, sizes, purposes, and squishabilities. These can be Tetris'd together to efficiently pack your bag without any gaps. And finding what you need is as easy as reaching in and grabbing only the block you want.
Example blocks I use: toiletry bag, medical kit, chargers, rain jacket (rolled up), and three stuff sacks for clothing ('frequent', 'infrequent', and 'dirty laundry').
Block method allows rapid packing and unpacking of the entire bag, and finding anything easily. Stuff sacks are a key ingredient.
3) Laundry powder
People often assume that I'm a dirtbag, after hearing this:
On more than one occasion I completed month+ trips with only one shirt. When you carry kilograms of camera gear, every shirt counts! And though it may be true that I'm a dirtbag, it's not for this reason. Because my shirt was synthetic fabric, and every second day I would wash it in my sink or in the shower with a sprinkle of laundry powder and hang it up to dry overnight.
For the record, I had many pairs of underwear. They weigh very little. But I did meet an Irish guy in China who only travelled with two pairs of undies. He'd clean one pair each time he showered. Now that's dedication.
4) Liquid bandage
I'm a terrible surfer. No matter how careful I am in the reef breaks, or taking care of my cuts, my ratio of surf days to cut-foot infections is about 1:1. Until I heard about liquid bandage: For crap surfers and clumsy travellers alike!
Keeping wounds clean while traveling is a nightmare, with long bus trips, dodgy bathrooms, and lack of clean water. An infection will seriously restrict your fun and mobility: I missed snorkelling with a school of 2-metre wingspan manta rays in Sumbawa because I had nothing to properly cover a foot laceration. Now I can't wait to go surfing and cut my feet!
Note: The spray-on stuff is completely useless. It's too runny and won't provide a durable barrier. I tried it in Australia, and returned it immediately. 2
5) Utility cordelette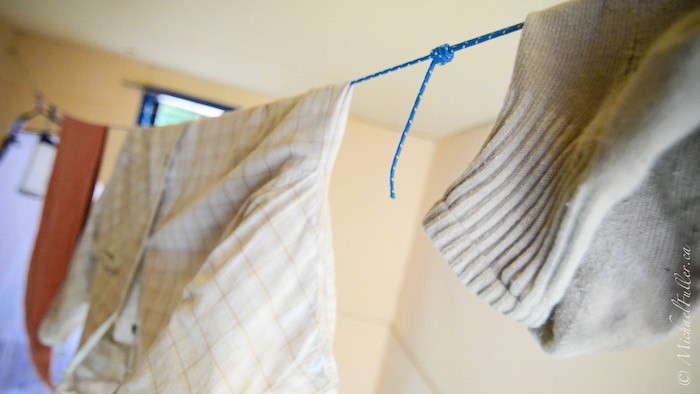 Three-millimetre diameter cordelette is strong and light. It's also incredibly useful to me for:
clothes line (enabling an ambitious new weight-saving underwear regime?)
food hang (this saved my snacks in the Togean Islands)
setting up mosquito net (I used it nearly every day in Indonesia)
You can find it at any outdoor gear shop. Just ask for 3mm static (not dynamic) cordelette; I find 6 metres ample, and not bulky.
I wasn't in Scouts. What knots do I use?
To make a clothesline,
Take one end a double over ~10cm of rope. Tie the doubled rope around itself in a simple overhand knot to make a fixed loop in one end.
Attach that loop to your starting point
Wrap the loose end around your destination point, and
Fasten the loose end back to the main line with a "poacher's knot"
This knot is brilliant because it's self-locking and once tied, you can easily tension until it threatens to implode your walls. Use more loops than the animation suggests, to keep the knot from sliding. 3
6) Explosion-proof sunscreen bottle
Sunscreen bottles are more volatile that most actual explosives. 4 These little grenades aren't designed to be rammed into a backpack daily, travel at high altitude, or be sat on — so most people handle them by carefully bagging and unbagging them, over and over again.
There's a better way.
Put the sunscreen in a different container. A non-squeezeable one. I use a screw-top bottle with a wide-mouth. You can then scoop sunscreen out with a finger.
Of all the Unexpected Items here, this is the one that gets the most "Why didn't I think of that?" face-palms.
I wish I could take credit for these tips, but I am merely a collector of good ideas. And now with your help, I can be a passer-oner of good ideas too.
-Mike
p.s. That was a hint. :) Don't be shy with those sharing buttons!
p.p.s. Opening photo credit Jerome.