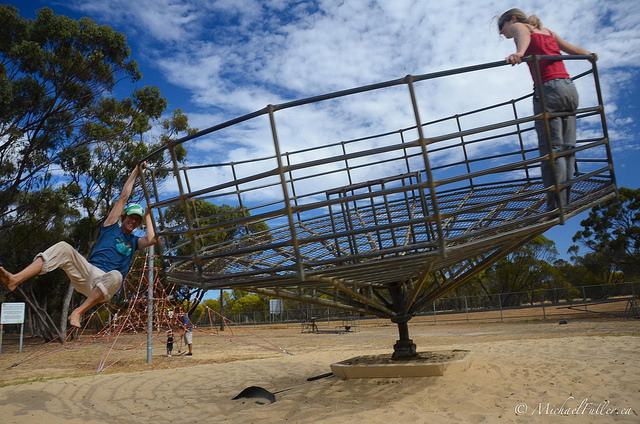 A long time ago, in a galaxy far far away, there existed a place without overly-worrisome parents, overly-litigious citizens, and overly-safety conscious adults.  Evidence of this enlightened period still stands in a small Western Australia town called Katanning, known mostly for its nearby abattoir.
And of course, its playground of oversized equipment for grown up kids.
Created and donated by the local farming community, this playground has huge slides, all manner of merry-go-rounds, some giant rocking-horses, climbing frames, and lots of other crazy contraptions which spin, swing, and otherwise threaten your safety.  A few things are out of service these days, but even as a museum to our worry-free past, it's worth a look.
There's also BBQs for a picnic, and a normal sized playground for wussy kids.
And on the 2nd and 4th Sundays of the month, you can ride a miniature steam engine and drink Devonshire tea. Perhaps not at the same time.
-Mike
P.S. This post is reproduced from my entry into the Atlas Obscura.