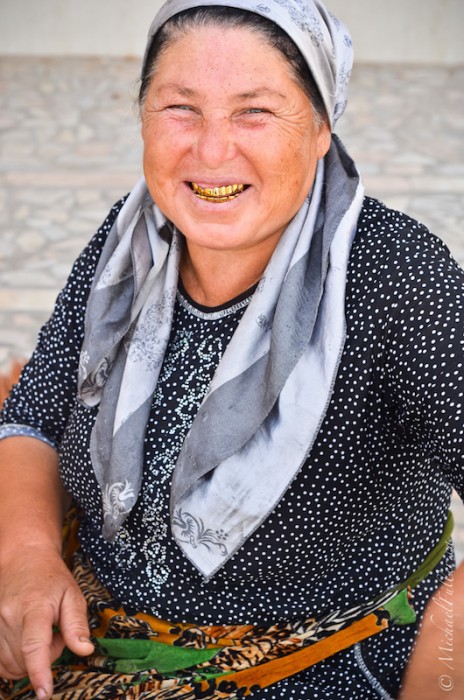 During my world wandering I seem to have developed something of a knack for attracting interesting strangers. A conversation, kindled from nothing, can burn for hours. I have asked more than one of these folks: Why'd you speak to me?
"You looked open."
Regardless of whether or not that's true (I'd like to believe it is) this isn't a lesson on how to emulate (or avoid) experiences like mine – and if it was, you'd find it in the ONE Project section. Here, I just want to give you three small examples of 'stranger stories' from Uzbekistan. And afterwards, dozens more, told silently by the faces of some of the other people I encountered.
ASKAR IN FERGANA. After a long discussion with a street egg vendor dressed, oddly, in a business suit, followed by a portrait session with his brother and niece (photo below), I wandered out of the market towards my guesthouse. On my way, a young soft-spoken man greeted me. His name was Askar.
Askar and I talked about life, the universe and everything. He had a college degree in Economics, but the best job he could find was at an internet café. He had "a pretty good job" considering his friends with other jobs earn half his $200/month salary.
We walked around all evening, and the next day he wondered if he could join me, on his only day off, for my daytrip to a silk factory. And an entire day hanging out and acting as my guide and translator, he was enormously grateful to me. This seemed absurd – I did nothing for him except speak; meanwhile he was friendly and helpful and barely even allowed me to pay for our bus fare.
That's when I learned how often Askar has greeted foreigners, only to have them swiftly walk away. People like Askar reach out to westerners like us all the time, wanting nothing more than to practise their english and learn about the many cultures of the world they'll almost certainly never be able to visit.
So I ask: Why do so many people bother visiting a travelling to a foreign land just to shun a chance to learn about its culture? As someone who travels purely to learn about (and celebrate) people, I'll probably never understand.
TIMUR IN TASHKENT. Timur was running a convenience store in my 'hood. I met him on day 1 in Tashkent when I stopped to buy some biscuits. Despite having no common language, I knew he was happy seeing a rare foreigner in his store. On day 2 I returned to buy water and paused a moment to notice the vintage glass-bottle Coke. Timur saw me, and without hesitation cracked one open and handed it to me.
"Free!"
He then asked if I had a smartphone, and when I pulled it out, he snatched it from me. He flicked it on, turned it around, and took a selfie. He then insisted that we sit down and talk. It didn't matter that he spoke almost zero english: This guy was hilarious and I wasn't in a rush. So we sat together in front of his shop.
There things got even funnier: He tried to tell me that he wasn't Timur. That the guy I met yesterday was his twin brother. To make sure I understood him, he re-enacted the births. ("First: Waaah wah!! Brother. Wait: Four minutes." He held up four fingers. "Waaah waah. Me!")
I was in stitches. Not believing him, I asked another guy in the store for the name of the Timur-like man beside me. He shook his head laughing as he walked away and muttered, "Timur." But Timur never did admit he was joking.
When his shop duties called him away (mostly to chase off loitering drunkards) I met all sorts of different locals passing by: Some that spoke english, and one sufficiently drunk to think he did. (This was Vlad – you'll meet him later).
When I tried to pay Timur (or his twin brother) for my water, he again refused. What kind of shopkeep won't take a customer's money?
"You, guest in Uzbekistan!," he told me.
ULA IN TASHKENT. While pulling my hair out in the two-hour SIM card ordeal (Stans #5) a friendly man named Ula and I got speaking. He invited me out to lunch – though he didn't eat, and wouldn't let me buy him anything – and I learned about the baffling predicament that only an authoritarian leader like Karimov can create1.
Ula came as a refugee from Tajikistan when he was an infant. He'd lived his entire 20+ years in Uzbekistan. But he wasn't, and would never be, a citizen. Nor did he have a Tajik passport from his homeland. He was a prisoner. Despite this, he was still worldly, intelligent, ambitious and fluent in english. He hoped that if he was stuck in Uzbekistan, he could at least start a commerce business as a way to connect with the world.
But as he told me, "Uzbekistan is a blind spot for the business world." Artificial exchange rates and strict import restrictions (not just against scruffy backpackers), meant his idea for a commerce business was futile and he knew it.
It was really humbling to meet a person so capable, but so handcuffed. His only glimmer of hope was his mother working in Russia, who might one day get citizenship there, and pry him out to join her. In this one basket he placed all his eggs of hope and dream.
<-> <-> <->
AS YOU LOOK AT these faces, I want you to ponder something with me: Uzbekistan might be the most inhospitable place I've ever been. Yet it was full of the most hospitable people I've ever met. Is this the height of irony? Or is it completely unsurprising?
[Embrace your entire screen! Click photos to view in a lightbox, and use arrow keys to change photos]
You might have noticed that many of these people are at work. Do you find the variety of livelihoods we have in this world fascinating? I do! That's why I just published a photography book devoted entirely to the subject.
It's called The World at Work: People doing work you haven't seen before, expected to be different, or just never knew existed. If it sounds interesting to you or someone you know, well you're in luck, because it's shipping very soon. So click here to find out more or order your copy today!