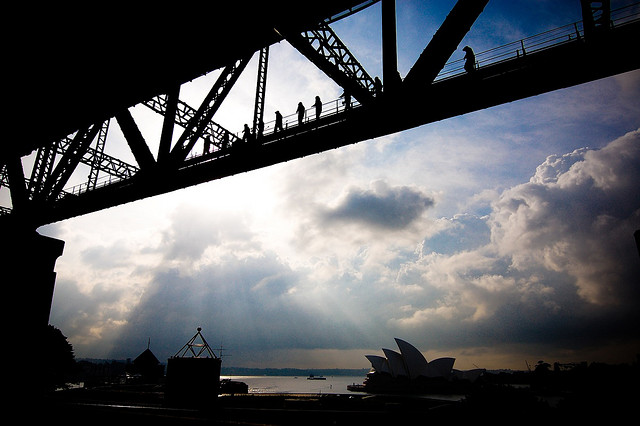 When travelling, I usually try to get "off the beaten track" (along with thousands of other travellers, of course).  But if I've gone halfway across the world to reach somewhere, I'm not going to turn my nose up at all the popular attractions. They're usual popular for a reason.
So sometimes, I enter tourist mode: With camera hanging from my neck I join the vague-walkers and gawk at sights which are oddly familiar (because they've been photographed to death, but somehow, always without any people!).  I figure even if I end up hating the attraction, at least I've earned the right to an opinion.
Where I draw the line, however, is with photos. It pains me to think of adding yet another cliché postcard photo to the world. What a waste of kilobytes.
The little stubborn voice inside my head forces me to find a new angle. I feel so rewarded whenever I manage to frame a familiar place from an unfamiliar perspective.
My photography tip: Find a new angle for old attractions
I can't really tell you how to do this, because there is by definition no formula! I just want to encourage your intention.
But I can give you some examples from my travels, so I hope you'll indulge me while I show off some favourites. (Find larger originals on my Flickr). Please note that I don't lay claim to these perspectives – maybe others have discovered them too. But I certainly wasn't aware of them before I visited.
Happy angling!
-Mike
p.s. Using the comments or my Facebook page, please share your favourite "unique angle" photos,  from these or other places!