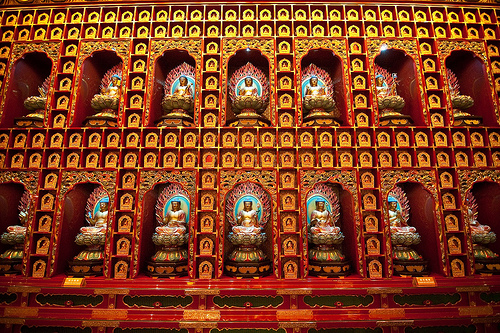 Zero Stars, Insufficient Jets
During my last week in Myanmar I received 2 emails from JetStar, urgently advising me that my flight Singapore-Perth had changed it's flight number. I scanned the itinerary and confirmed my flight leaving Yangon hadn't changed. So when I arrived at the Yangon airport to see my flight was cancelled, I wasn't impressed. And there wasn't even a JetStar representative to tell me why!
I got put into a hotel across the street, and festered there all day until my Myanmar Airways flight the next morning. Interestingly enough, there wasn't a single Burmese staff or pilot on the so-called "Myanmar Airways" flight. They were all French! I wasn't sure whether this was an upgrade or not.
After my three day recovery from Burma in Singapore I was flying back to Perth. I went to the airport early to try and score some compensation for my mistreatment in Yangon. I showed up at the JetStar counter to watch my Perth flight status change from "Check-In Open", to "Cancelled". No. Joke.
I usually wouldn't mind, but there was a problem: I had a dental operation the next morning in Perth. My dentist was going on holidays the following day, so I couldn't reschedule. And my medical insurance to pay for this $1300 procedure was expiring a few days later, since I quit my job. So I could not be delayed.
There were 30 angry people at the desk around me, and 100 more coming, who no doubt had 130 great reasons why they also needed to be in Perth the next day. So I set phasers to "maximum charm", and took aim.
My first target, a nonchalant young female employee, told me the only other flight to Perth was full. I gave up on her, she wasn't going to help me. I quietly determined the manager, caught his name, and when he finished his phone call (reserving 100 rooms at a hotel!), I politely asked for a minute of his time to explain my situation. He said he'd try, and told me to wait behind a French woman in line.
Her story was rather eventful: Her Mexican boyfriend had poor visa advice from JetStar staff, so when they landed in Bangkok without a visa he was thrown into the detention center for hours, awaiting deportation. They were sent to Singapore, where he also had no visa, and was promptly chucked in another detention center. If they didn't get on the plane to Perth (where they did possess visas) he'd be spending the night in the communal cell with 40 other guests, some of whom had been rotting there for months. And they'd even charge him $25 for the accommodation.
We all got on the flight, but not without a couple more suspenseful hours, and an enormous delay and re-routing due to volcanic ash. I went straight from my home to the dentist upon arrival the next morning. I was 10 minutes late.
Three Weeks and Three Thousand Kilometers
While Jon and I were trekking in the northwest Vietnam highlands, we stopped for lunch in a trailside hut, and met two women our age who were lawyers from London. We joked and chatted awhile, exchanged emails, and went our separate ways. (Ours to Burma, theirs down Vietnam, up to Hong Kong, and over to Bangkok).
Fast forward 3 weeks, and 3000 kilometers. I'm walking along the waterfront in Singapore, a city of 5 million people. Two nice looking ladies come walking towards me, and they looked a bit familiar.
I stopped. Slowly removed my sunglasses. And stared in disbelief. And they did the same. It was my two friends from Sapa. Unexpected and unlikely encounters are one of the highlights of traveling.
No Durians on the Train
They call Singapore "A Fine City", because the government keeps the city clean and orderly, by prohibiting many things and fining those who offend. You'll get fined for possessing chewing gum, littering, smoking almost anywhere, jaywalking, drugs (even if they're only in your bloodstream), pornography, or failing to flush public toilets. But if you overstay your visa you don't get a fine — instead, they cane you.
Mod Oz
Surprisingly there were a lot of Australian establishments around Singapore. There's even one restaurant called 'Fremantle Port' — that's the port city on the coast where I live! When I walked passed one expensive restaurant advertising fine Australian cuisine, I laughed. I didn't even know we had that in Australia! It must mean really nice toast with gourmet Vegemite.
Though in seriousness, "Mod Oz" (Modern Australian) food has plenty of Asian influences, so it's interesting that now it's spun around 360 degrees back to Asia. (Aside: Another cross-cultural fusion story: Ramen noodles originated in China hundreds of years ago. But after returning Japanese soldiers from WW2 in China set up restaurants at home, they became popular in Japan, and in 1958 instant ramen was invented there. Cheap manufacturing meant that the Japanese ramen production eventually moved to China. At this point we have Japanese-style Chinese noodles, made in China for Japan. And before long the Chinese became huge fans of ramen too. They now consume 50% of the world's ramen and nine times more than Japan)
I think I'll start a restaurant in Australia, improving upon Modern Australian food from Singapore. I'll call my cuisine "Postmodern Australian".
The most posh entertainment and shopping area in Singapore is on Orchard Road, where you'll find Armani, Cartier, Burberry, Chanel, Prada, and the most expensive hotels. I had been 3 days without being called 'handsome', so I needed an ego boost.
I went for a walk around the one mall on Orchard Road that stands out from the rest: Orchard Towers. This mall is famously known as "Four Floors of Whores". Every other shop is a massage parlour. And after a 10 minute walk I had 15 women compliment my appearance. Perhaps the most sad yet unsurprising observation about the mall was that on the 2nd floor, nestled between the highest density of brothels, I found The Aussie Bar.
* * * * * * *
The moving platforms and escalators of Singapore operate just slightly faster than in anywhere else I've been. It's subtle, but I like it. I'm a bit less subtle: Take a look at my finished photo album from the trip by clicking the thumbnail above.
Thanks everybody for reading, responding, and commenting on my updates and photos. I hope you enjoyed these chapters in my ongoing adventures.