West Side Stories (Close Encounters of the Serendipitous Kind)
Walking along the sea wall in Vancouver, I turned the corner and froze in disbelief. I think I even blinked a couple times, because sometimes my contacts get cloudy. My friend Marie, whom I last saw in Fremantle, and who now lives in Ulaanbaatar, was walking straight towards me! She was visiting Vancouver for a couple months to have her baby, and neither of us lived near this path—I had never even walked it before. But there we were, gobsmacked.  During my brief stay in Vancouver, I kept running into people from my former life, in some of the most serendipitous ways.
At the base of a climb in Squamish after a fifteen minute hike through the forest, Tiff and I popped out onto the slab and — Hello! — face to face with three guys I knew from climbing trips and engineering class. (One of them was a Mexican who'd come with me on a US climbing trip, and I recalled to him the funny memory of his ordering at a fast food restaurant en route. The woman taking the order was also Mexican, but without even the basics of english—her manager leaned over and recited in her ear each sentence she would then repeat aloud to us, like some sort of slow, human megaphone. After a painful minute of this irony, I made the obvious suggestion that he just save this poor woman the trouble, and just order in Spanish)
A week later on a different route in Squamish I had just (barely) finished an 8-pitch masterpiece to the top of the 800m granite monolith, The Chief. We lay in the sun eating, exhausted after the final pitch, revelling in the bliss of accomplishment, and overlooking the majestic mountains and tranquil ocean. Suddenly, a face pops up over the cliff edge from the same route. It's familiar: a guy that six years ago I actually taught how to set up top-ropes. And after a few seconds, we still remembered each other's names.
Boris and I had been climbing around Squamish for a couple days, hitchhiking into town each night to visit the pub. We needed to get back Vancouver for the next adventure, and opted to continue using our thumbs. When someone finally stopped, we opened the trunk for our packs, and found it immaculately clean and totally empty. Except for two paper firing-range targets, riddled with holes. I looked at Boris nervously, and we laughed. Then of course, we hopped into the car. Our driver was an Iranian tourist traveling with his mother, who appeared to follow along with all our small-talk but it was likely she didn't speak a word of English. We never asked about the bullet-riddled targets; I preferred to leave intact my mental image of this sweetly smiling elderly mother poppin' caps into a human-torso-shaped target, with her shawl flapping in the blowback.
While hiking in the mountains of North Vancouver I was telling Boris about all these crazy encounters. Him and I were just returning from an alpine climb called the Widowmaker, and we hadn't seen anyone else for about a day. Moments later, two of our friends walked towards us on their way to climb the same route. And after that, an old acquaintance of mine appeared on the trail. Boris found it funny and odd that he lives in Vancouver, and hadn't been randomly running into anyone he knew! As if by fate, a few minutes later an old man appeared, guiding a young Asian couple. The old fellow says in a thick Russian accent, "Boris?!", and the two prattle on in Russian — it turns out he was an old family friend. Meanwhile, the young couple, adorned in ludicrous amounts of shiny new gear — including hiking poles, goretex pants, gaiters, crampons!? — asked me what we were doing, and I told them about our rock-climbing / overnight adventure. Their reaction was priceless: Boris was in sandals, and we were sharing one backpack. They had about double the gear. They were on a day-hike.
There is a steel box atop Grouse Mountain which you must open to complete your backcountry hiking paperwork. When filling out ours, the heavy steel lid of the box stood precariously balanced when opened. Like a mountain lion waiting to pounce, it suddenly swung closed as Boris completed our trip plan, and put a nasty dent in his otherwise sturdy skull. It turned out to be the most dangerous part of our entire four day climbing adventure.
The Far East (Around in Circles)
S
o I bust out of the Halifax airport into the sweet Atlantic air. I find Dan standing on the sidewalk beside his work van, playing songs on his guitar. I almost mistake him for a busker, except that you never see buskers at airports. I wonder why not. I think we need more buskers around airports.
We drive towards the city, passing an enormous, cube-shaped rock outcropping along the highway, brightly painted to form a giant Rubik's cube. For many years this Rubik's rock stood beside the highway in the same fashion it likely exists in your home: bright, neglected, and most importantly, unsolved. This year the highway Rubik's was repainted. Solved. I am happy for the rock.
Soon we arrive at Dan's house, his first time back in weeks. The location of Dan's house keys in the mess of the van has escaped him. So we enter via the bedroom window. Security isn't a real concern in Nova Scotia — not only does Dan leave his car unlocked, he never even removes the keys from the ignition.
A busy day at the beach outside Halifax
We fill up the van at the closest petrol station to our destination, and I wander inside to soak up the rural Nova Scotian culture. I see an advert on the wall for a local fundraiser, that day, to benefit Mr Garth Fader. An unfortunate name. May the Force be with him.
We arrive at Dan's bicycle tour-guiding workplace, after barely ascending the steep, rutted, gravel driveway to the house ("the best theft deterrent"). The homebase is a beautifully built pair of large wooden buildings: one the workshop for bikes and wood, the other the owner's family home. The home looks out through conifers upon the Atlantic, and is abutted by forest and a huge garden. A group of us watch the owner's son walk carefully into the garden. Suddenly, psssh clack! And a yelp. Another psssshh clack, and a second yelp. Everyone is laughing: the owner has set up a motion-activated sprinkler system to annoy invading deer. But it doesn't discriminate. A brilliant system. Watching the son comedically get sprayed, I am reminded of Bart trying to eat the electrified cupcake.
Dan and I depart for our canoe trip within hours of my arrival in Nova Scotia. We are headed for Kejimkujik National Park, which we selected because it has such a great name, and I wanted to say the word a lot. It's probably my second favourite indigenous place name; I can't wait to visit Tuktoyaktuk. An hour from the park (you can call it Keji for short), we remember the last things from our list: matches, tent pegs, and stove fuel. You see, after many trips together over the past 12 years, we are certainly experts.
It's 5pm before we reach the park — because we stopped for pie — and the ranger is a bit nervous about how far we need to paddle that evening. So we let her know that we are experts. She seems relieved. We hope she doesn't ask about our life jackets, because we've forgotten them. No worries, they'd only slow us down anyways. Plus, experts don't capsize. Except those two times we did — but we weren't experts then.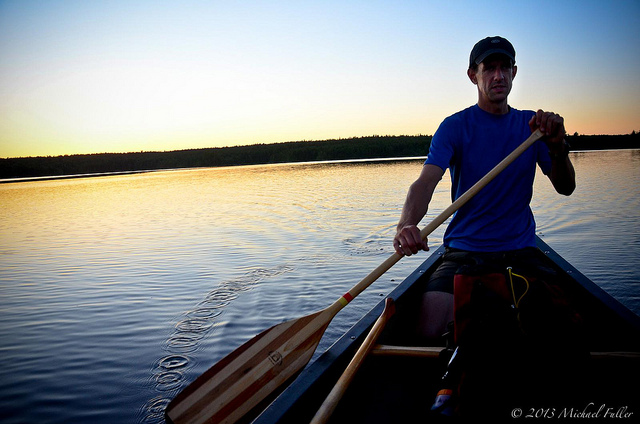 Hours later, the sun is setting, and we are still paddling. We had arrived at our assigned campsite, but it was rubbish, so we decided to find a better one, with waterfront views. Location, location, location. We find our home for the night after sunset, and Dan gets to setting up dinner while I put up the tent — one that requires pegs to stay up. I think the ground is a bit hard, and confirm my suspicions by shattering the first peg. Dan informs me that one was our only spare. I hit more gently. Done with the tent, Dan is still fiddling with the stove. But I sit patiently, because Dan is an expert. "Shit," he says, "I just broke the pump. Rrrrrraaagh!", he exclaims, as he drop-kicks the broken pump deep into the darkness. At that point we decide to cook all our meals over the fire, because they taste better that way. And with an abundance of now superfluous stove fuel, Dan expertly lit each fire with only one-match.
The next afternoon while relaxing on a sunny rock island we decide to bathe away some of the stink of paddling and portaging. After a couple minutes of swimming, something begins tickling me. Down there. A leech is exploring a critical area of my anatomy — bath time is definitely over. I scramble up onto our tiny rock, and when I turn around, I see that the leech has actually followed me to the rock, and is climbing up towards me. I am both horrified and slightly fascinated. That's one persistent parasite.
Back at camp, Dan chops veggies for our dinner, while I'm in charge of opening the can. That may sound easy, but a can opener wasn't on our list. I'm looking around for inspiration, when Dan jumps up, wailing. He grabs the water bottle and drops onto his back, squirting water into his eyes. Dan likes spicy peppers, but his eyeballs evidently do not. He will lay there for the next 10 minutes, giving me time to bash open the can on the corner of the grill. I expertly pry open a hole, nearly breaking the spondonicles in the process. Damn, we're a good team.
The next morning we pass the first humans of our trip. They ask us where we are headed, and Dan replies, "Around in circles", to their confusion. The previous day we had paddled 16km, and portaged eight times for a total of 5km, to finish basically where we started. This was so we could complete the full circuit, passing through all the beautiful lakes of southern Kejimkujik National Park (say that 3 times fast). but it was a great metaphor for the amazing and silly time we had, honing our canoeing expertise.
Expertly yours,
-Mike