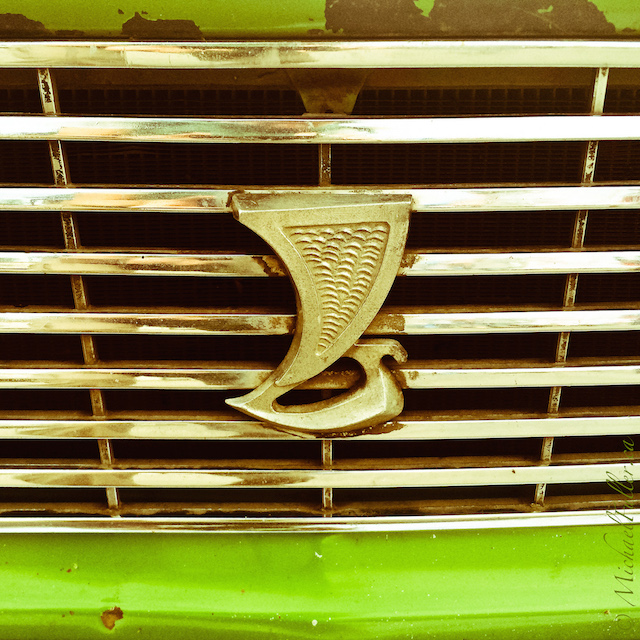 [A photo-essay in my ongoing series from Central Asia. Scroll down for all the photos. Find other posts from the 'Stans here]
AS ANOTHER LADA trundled past me – unequivocally Kyrgyzstan's favourite car – I made an offhand comment to the local I was chatting up. "It's a shame all these folks have to endure so many Lada jokes."
That's when I realised I had entered a sort of bizarro-world, where my culture's vehicular stereotypes do not apply. I call this place Lada-stan.
He looked confused. "Lada… jokes?"
"Yes," I said, "Because Ladas are such famously terrible cars. Jokes like:
What do you call a convertible Lada?
A skip-bin.
or
What's the difference between a Lada and a golf ball?
You can drive a golf ball 200 metres.
or
A man goes into a car shop and asks, 'Can I have a hub cap for my Lada?'
The employee thinks to himself for a moment, and replies, 'OK. It seems like a fair swap'"
"I don't know what you're talking about," he said. "Ladas are excellent cars: reliable and easy to fix. Everyone wishes they had a Lada!"
Hearing this was certainly disorienting. At one point, I even witnessed a broken-down Audi being towed by a Lada. That's when I realised I had entered a sort of bizarro-world, where my culture's vehicular stereotypes do not apply. I call this place Lada-stan.
The local explained how their community came to have so many Ladas: Because of their exceptional, hardworking farmers. Whaa?
In the 1980s the Soviet government made a policy that if a family can produce 15 tonnes of potatoes they get on the list allowing them to buy a Lada. (At the time, the cars were also available on the black market, but they were nearly double the price, and purchasing one there had the problem of inviting police suspicion).
With all those hard-earned Ladas, no wonder they're so proud of their vehicles.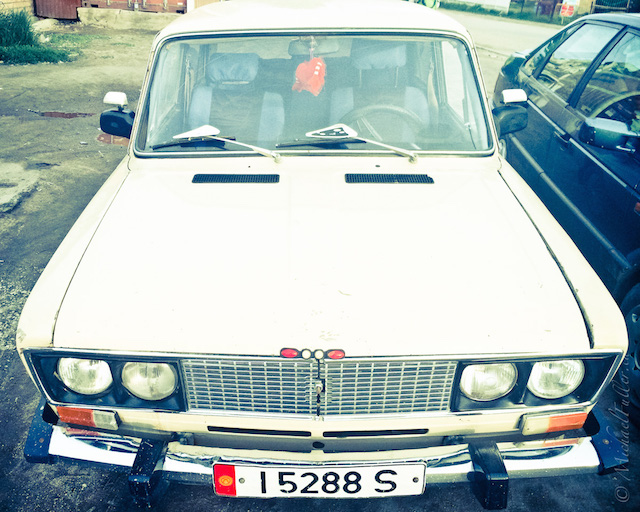 AS I WAS COMPOSING ONE of the Lada photos for this essay, my quirky Slovak friend Tomas asked me why. I explained that it began as a gag for my Perth friend, who actually owns a Lada. (the only one I've seen on the continent).
At hearing this, Tomas was comically irate (think Seinfeld). "What the heck is wrong with your friend? Is he suffering from Ladaphelia? If he really wants a terrible car he should get a Trabant. It's from East Germany, and it's the worst car ever made."
Tomas elaborated. "Firstly, Trabants have 500cc, two stroke engines. They are made of plastic, and so light they get blown off the highway. Each model only comes in one colour, and the wait time to buy one was 8-years."  These and more peculiarities are exemplified in Trabant jokes:
Why does a Trabant have two exhaust pipes?
So you can use it as a wheelbarrow.
and
Why is the Trabant going around in circles in the field?
Because there was a blade of grass stuck in the door.
and
A man calls a dealership wanting to order a Trabant. "Great, well Sir we've got the P50 in white and the P60 in blue. You can come see them… seven years from next Tuesday."
The man replies, "Morning, or afternoon?"
The dealer says, "Afternoon. I've got a plumber coming that morning."
When I was telling my Russian friend about all these facts, encounters, and jokes, he laughed. Then he turned to me:
"Ladas? Trabants? They're bad cars, but the worst car was the Zaporozhets."
By now I had grown quite fond of ex-Soviets out-competing each other for the ladder's lowest rung.
"Zaporozhets only came in 2 models, and were so light that two people could lift them. Their nickname was 'Zapor' – this means 'constipation'."
<-><-><->
BEFORE COMING HERE I'd never heard a joke about a Trabant or a Zapor. Maybe for the same reason I'd never seen a Trabant or a Zapor: Because they're mostly all stacked as neatly compacted cubes in Soviet scrap heaps.
Perhaps the abundance of Ladas here settles a debate, and vindicates a car bullied for decades. With so many Ladas still grinding their way up Kyrgyz mountains; across jailoos; carrying families (and their sheep); and towing broken Audis, maybe the Lada has finally earned itself some respect.
Perhaps the joke is actually on all of us.
[Welcome to Lada-stan. Click any photo to view full-screen. Enjoy the ride.]
 [Like this post? Curious about the 'Stans? Read about Kyrjikistan, jailoos, and a layercake of history in my other posts from Central Asia]