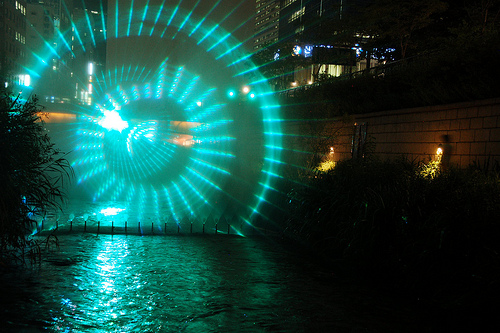 My friend since grade 9, Jon has been living in Korea for the past two years teaching english and learning Korean. This gave me an excellent opportunity to visit a friend and see a place off the (western) tourist trail. South Korea is a country, like China, that would be painstaking to visit without speaking the language. Jon (his Korean name is Mi-Nam or 'Handsome'—but judging from his webpage maybe his middle name should be Wongja-Byong or 'Prince Disease') met me in Seoul, and we began a full-on ride across the country—all the way south to the volcanic island Jeju off the southern coast.
Don't Talk to Strangers
Nowadays, kids learn english from a young age in school. But among people my age and older, it is usually at a level insufficient for anything but the very basic. In Japan, people will rarely randomly speak to you in public places, out of shame for their poor english. Fortunately Koreans are less shy! A woman on the subway struck up a conversation with me, and one of the first questions she asked was "What's your blood type?".
Was she serious? I repeated the question back to her a few times to make sure I understood her english. Maybe if she was a doctor this would be less strange, but she was a tour guide for Japanese. I told her my type (A+, how apt) but didn't think most westerners would actually be able to answer.  It turns out that in Korea, blood type is important. So much they require it on job applications, along with portrait photographs (one big reason cosmetic surgery is so popular here).
Heart and Seoul
There are two t-shirts I've always wanted that pun on place names. 1 But I don't believe one should wear clothes containing geographical references unless the wearer has been to said place. Since one of the shirts had a Korean reference, and since couples in Korea often wear matching shirts, I knew that I had to get a pair of shirts for us this trip. But after realizing that the shirts had to be (a) ordered from America and wouldn't ship in time, (b) Only came in blue, *ugh*, and worst of all (c) was written in a serifed font — I had to custom design and have printed our own shirts for the trip. They arrived the day before I left!  Every foreigner laughed at them, but we had to explain the joke to all the Koreans who inquired. Click here for the result.
In Seoul there exists a tranquil babbling stream slicing across the heart of the city, sunken from street level. It has gentle cascades, stepping stones, and wooden arched bridges. At night on a wall they project automated evolving digital flowers, and every hour there's a mesmerising laser show to music, projected into a cloud of fog. This place is called Chung-gye-cheon. Many people come here to relax, have a date, play music, or nap. The most amazing thing about the place, and what serves as a great example of the progressive attitude of Koreans, is that for the past 50 years up to 2005 this stream was covered with concrete and topped with a highway. Imagine any of our cities ripping out a highway to build a public cultural space!
Jon and I enjoyed the place so much that we wanted to celebrate Canada Day there. Not just at the river. In it. So we bought some inflatable tubes, ziploc bags for the camera, and a couple cold beers. At the riverbank while inflating the tubes an elderly security guard accosted us emphatically. He seemed to be really excited about our masterful plan, even more than we were! Of course I couldn't understand Korean, but I caught the gist and Jon half-translated.
"Ah, no beer allowed? OK we'll drink it first."
"Oh, we can't swim either? Police will come? Hrm…"
I asked Jon to inquire if "floating" was allowed, but he didn't know the word. We were out of luck. The eagle-eyed guard stood by for half an hour as we sat on the sidewalk, in our half-inflated tubes, drinking our beers. But we'd have been stupid not to try it again.
We wandered at street-level through downtown, looking for a less-guarded area. The next entrance had a security guard already waiting there (they had walkie-talkies). We weren't about to sneak past him with our inflated orange tubes very easily. We walked on. At the next entrance, with no guards in sight, we rushed down and jumped in, floating for 10 minutes. Young people smiled and waved while shaking their heads in disbelief. Old people also waved, but it was more of the "Oh-my-gosh, what-are-you-foreigners-doing, get-out-of-there-now" kind of wave. When we spotted another guard on the bank, we climbed out and up, slipping into the busy downtown crowd, dripping wet.
There are some photos and more mini-stories on my website by clicking the thumbnail photograph above, with more to come!
Annyeong-hi gyeseyo,
ㅎ Hu Nam ㅎ