This is not my typical post. But the internet desperately needs an update on how to cross the China-Russia border overland from Manzhouli (满洲里市) to Zabaykalsk (Забайкальск). What we read before our trip (from ThornTree, Wikitravel, and TripAdvisor) was badly outdated. Basically, 100% of it was wrong.
So here we go: How to cross the China Russia border from Manzhouli to Zabaykalsk.
1. Arrive in Manzhouli
You'll likely be coming in by train. We took the K7091 from Harbin, 20:20-08:46. Don't quote me on it, but I think there are 3 others: K7181 @ 07:05 – 20:48, K7057 @ 17:35-08:01, and #2623 @ 20:52-09:30.
If you're spending any time in Manzhouli, it's just a 10min walk into town from the station, which is on the city's south side.
To walk into the city, exit the station, turn right (west, ie the way your train was pointing), walk 100m to the railway overpass, and hike over.
Alternatively you can take a taxi anywhere in town for ¥10 (Drivers did not even try to ask us for more)
Things you can do in Manzhouli:
change money: a very good rate is offered by the Port International Hotel information desk; see their blue and red sign for the rate. (was RUB9.38 per 1 Yuan in July 2019).
If it's closed, a decent rate (was RUB 9.18) is offered at the Russian-themed Marina Restaurant (click for location only; ignore Google Maps' incorrect names).
buy groceries: We found only one supermarket: one block north and east of the Port Hotel.
walk along the lake or have a nap in the trees there (if you had a hard seat overnight train, like us, you'll need it).
buy Matrioshka dolls or other kitschy Russian souvenirs you won't want if you're actually going to Russia, which you are.
visit Matrioshka World (if you fancy spending ¥178 to see a bunch of giant painted dolls).
eat a meal: Except for very meaty affairs, the town was (bizarrely) devoid of coffeeshops and restaurants. Manzhouli seems to exist only as an oversized and repetitive shopping mall for Russians. We did however find an awesome cheap Korean restaurant (on Wudao St, at Haiguan Rd. It's one block south of Shangri-La Hotel) with a photographic menu; I recommend the bibimbap!
and last but certainly not least, get a manicure, because that's just what every backpacker needs (Hair and nail salons vastly outnumber cafes and restaurants in this strange place).
2. Get to the international bus station
Pinyin: guo2 ji4 qi4 che1 zhan4 (I think) or write "international bus station" into your translator and show the driver.
It's a fairly newish red building with white trim about 1km NW of town, and not where Google Maps believed it to be at the time of writing.
It's probably an unpleasant 10-20min walk, depending where you are starting.
You cannot walk across the border, and I'm told that taking a taxi / private car / Chinese bus (if they even exist) will add at least 1-2 hours. So the Russian bus is is the only way you want to try to get across.
3. Find your Russian bus
When you arrive at the international bus terminal, enter the ground floor, walk through the metal detector (with your bags) and go outside on the left to find your Russian driver or facilitator (our bus had one of each).
When you find the Russian facilitator, he'll want to check your passport and visa. Then he'll write down your details into a receipt and take RUB600 payment.
Next go inside and show that receipt to the ticket window near the metal detector; they'll charge you their admin fee (RUB125, but cheaper if you pay in yuan. We didn't have any left)
The buses leaving Manzhouli operate on the timetable below (the bottom row), and cannot be booked in advance (even the same day) because most buses make one round trip each day. On weekdays, you'll usually find a spot on the first bus. A local told us on weekends (when Russians come across to shop) you might need to wait for the second bus.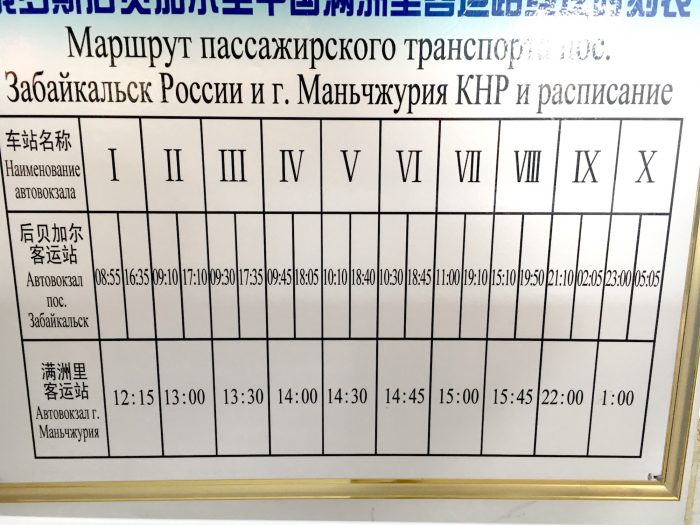 4. Cross the Chinese border
Your Russian facilitator will give you instructions, but in our experience this is how it worked:
At the Chinese border, some guards will enter the bus to inspect your passports and visas. Make sure you know the name of your country in Chinese (eg Jianada, Deguo, Aodolia, Yingguo) because our guards had no idea where our passports were from, and could not read them.
Next you'll leave your baggage on the bus and enter a cavernous, fancy, new building with the facilitator. Head up the escalator to a very efficient customs desk. Show the border guards your passport (ours spoke english!). This part was very quick.
You'll then board the bus and roll into what seems like the no-man's land after the Chinese border, but is actually some sort of Chinese post-customs holding area. I figured this out because after puttering around for an hour, moving a few metres at a time in a big muddle of vehicles, some more Chinese guards boarded the bus and asked to see our passports again (to check the exit stamp).
Then you're finally off to the Russian border!
5. Cross the Russian border
Even though your facilitator has the deal with the border guards, this process was a bit hectic.
A Russian border guard will enter your bus, check your passport, and give you the Customs Entry card. QUICKLY fill both sides of this card out, completely. This includes the name of your inviter organisation. (Hint: it's written on your visa). Don't miss anything or the guards may yell at you.
Leave the bus and bring ALL your luggage. Enter a dark, old building with too many rooms, and follow your facilitator. You may need to write on your Customs Entry card while you walk / wait in line.
The Russian's "special arrangement" with border guards means your party jumps the queue – so it will be very fast. But you will get dirty looks from those you're jumping ahead of (and if you understand Russian, a spray of some pretty awful comments too. The locals are double frustrated, because foreigners take longer to process)
After 5 minutes of tense clickity-clackity, the border guard will wave you through. Then you just x-ray your luggage, and find your facilitator to take you back to your bus.
Welcome to Russia! The driver can drop you anywhere in town, so let him know where you're going. The train station is called железнодорожный вокзал (zheleznodorozhnyy vokzal).
Hope this was helpful.
Additional Notes:
this whole process took us 2.5 hours. A local told us the maximum time is 5 hours.
The Russian side of the border has a different time zone (UTC+09:00), one hour later than the China side (UTC+08:00)
If you're catching a Russian train, I suggest booking ahead on the (fantastic, and english) RZD website. You don't want to be stuck in Zabaykalsk.
Please leave any comments if you have updates or additions!
You can read about my China-Russia trip, or see my street photography, here.