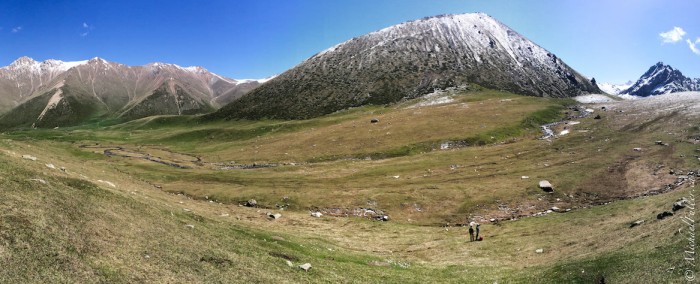 Kyrgyzstan is often called "the Switzerland of Central Asia". Wondering why this strange moniker?
Well, not for its secretive banking sector. Nor for its high GDP and stable currency. And not for its yodelling. Nor for its cuckoo clocks or practical pocket knives.
No, Kyrgyzstan is compared to Switzerland because it is landlocked and mountainous. Really, really mountainous. And since you're probably more familiar with Switzerland than Kyrgyzstan, let's use it as a benchmark.
Switzerland's highest peak is Monte Rosa, at a dizzying 4600 meters. But Kyrgyzstan's highest, Jengish Chokusu, would squint down at little Monte Rosa. It's stupefying peak is nearly 2km higher.
Both countries are covered with mountain ranges. As a result, Switzerland has just 22% of its land classified as arable. Meanwhile the almost entirely mountainous Kyrgyzstan has just 7% arable land. There aren't many farmers.
And while Switzerland has dozens of peaks over 4000 metres, Kyrgyzstan has dozens over 6000 metres. Switzerland's highest mountains, if placed around Kyrgyzstan's, would be quaint foothills (aided by the occasional lederhosen-clad Ricola-sucking yodeller).
Enough facts; on with the photographs! Here are some panoramas from the valleys, meadows and mountain-towns I visited. Enjoy the view,
-Mike
[Please do yourself a favour: Click images to make full-screen, and use the arrow keys to move between photos]
[Curious for more about the 'Stans? Find stories of archer warfare, invented nationalities, and Soviet collapse in my other posts from Central Asia]